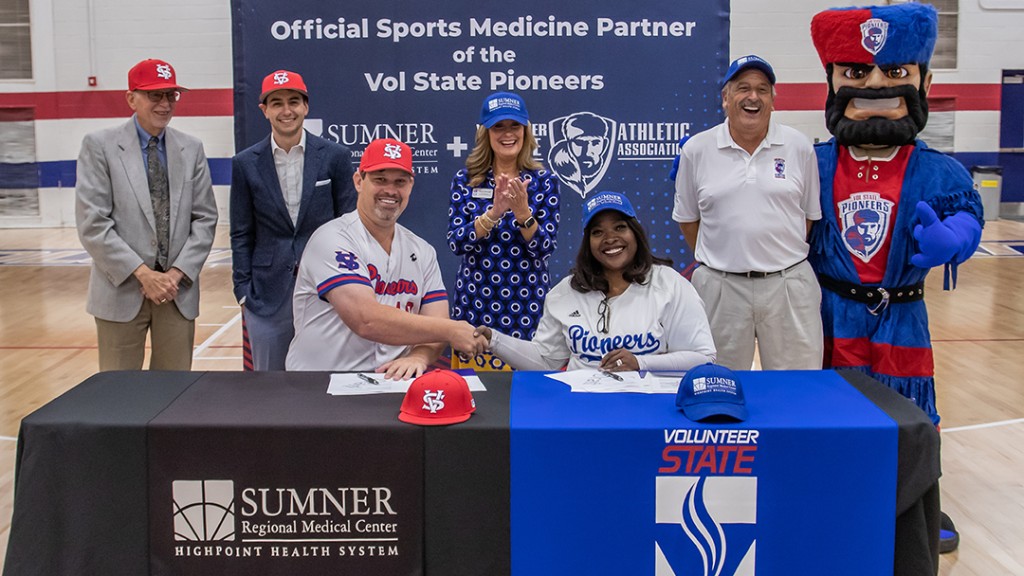 Sumner Regional Medical Center (SRMC) and Volunteer State Community College (VSCC) have partnered together on a variety of events and programs related to nursing education and recruitment for about two decades, but today the two organizations publicly joined forces to raise the caliber of the college's growing athletics program. Sumner Regional became the Official Sports Medicine Partner of Vol State Athletics during a special "Signing Day" ceremony, similar to events in which high school or collegiate athletes indicate their intent to join a college or professional sports organization.
Surrounded by athletes, coaches, SRMC nurses, doctors, community leaders, and college and hospital executive teams, Rod Harkleroad, RN, CEO of Sumner Regional Medical Center, and Vol State President Dr. Orinthia Montague, both wearing vintage Vol State jerseys, ceremoniously chose each organization's hat and signed a letter of intent. The Vol State College Foundation was presented with a $30,000 big check from SRMC, which represented an annual gift earmarked for the athletics association's needs.
As two major organizations in the Gallatin community, this partnership represents a strong ongoing collaboration to make our community healthier.
"I walk around the halls at Sumner Regional and see Vol State nurses, I see the ancillary staff taking care of patients, and most of all I see people that work for us that came through Vol State," said Rod Harkleroad, RN, CEO Sumner Regional Medical Center. "When I look at where we're at I realize how important it is to have a wonderful community college like this with so many growing programs, including athletics."
President of Volunteer State Community College, Dr. Orinthia Montague states, "Athletics represents Vol State throughout our region and serves as an avenue for recruitment. With that, we want each member of our teams to be well-rounded in taking care of their minds and bodies. This partnership represents some of these core aspects of care, and we are excited to solidify this pathway to ensure our students have continual access to top-of-the-line health care with Sumner Regional Medical Center."
Dr. Nicholas Dantzker, Sports Medicine Surgeon, along with the team of providers at HighPoint Orthopedic Associates, is excited to provide support and care to the male and female athletes playing softball, baseball, basketball, and e-sports at Vol State.
Dr. Dantzker attended Medical School at the University of Cincinnati College of Medicine and trained at both Vanderbilt University and Columbia University. He has served as a team physician for Columbia University, Fordham University, the New York City Football Club (Major League Soccer) and helped care for the New York Yankees.
"Part of the allure of coming to Gallatin to be on the medical staff at Sumner Regional was the opportunity to build a community-focused sports medicine program," Dr. Dantzker said. "That program, that vision is anchored by this relationship with Vol State Community College and I'm so excited."
Besides treating injured athletes, Sumner Regional will educate athletes on topics such as the importance of hydration, stretching, and preventative tactics to keep the athletes safe and healthy, hold coaches' in-services, and alleviate any barriers to care when athletes choose to receive their care within the network of providers.
"From sports medicine to primary care, athletes have access to a wide range of providers. I know mommas and daddies will be thrilled to send their children to a college that prioritizes their health and education and has great partners looking out for them," stated Bobby Hudson, Vol State Pioneers athletic director.
The Gallatin Chamber of Commerce and Kim Baker, CEO, helped recognize this new community partnership with a ribbon cutting. Gallatin Mayor Paige Brown was also in attendance.
Click to learn more about our Sports Medicine program.
Read All Posts